The mayor's WellnessWorks Initiative aims to engage Miami-Dade County employees on the benefits of a healthy lifestyle through the educational, wellness and recreational programs and facilities brought to you by County government.
Winter Extravaganza
Winter Extravaganza is happening at two locations from 10 a.m. to 2 p.m.
Stephen P. Clark Government Center
Tuesday, Dec. 6
Outdoors in the west courtyard
South Dade Government Center
Thursday, Dec. 8
Outdoors between the Library and Administration Buildings
Here's what you'll find at the event:
Shopping deals from Macy's, Essential Oil Jewel and others. Renew your memberships with BJs and AAA. Engage with Beyond Med, Aflac, Dream Vacations, Transamerica and Brightline
Enjoy WellnessWorks holiday-themed stations with massages, raffles, perks and healthful surprises
Take your photo with Santa, brought to you by the Dade County Federal Credit Union, and join their prize hunt
Savor delicious seasonal flavored treats from the Salty Doughnut, and holiday ham and turkey tastings from Asados Pepe
Adopt a shelter pet and bring them home for the holidays
Learn more about the resources at Miami-Dade Public Libraries and Culture Shock
Florida Mobile Mammography will be at the Stephen P. Clark event on Dec. 6 only
Caroling from the Transit Expressions Choir at the Stephen P. Clark Center downtown only
Delightful entertainment, including a life-size snow globe and snow at both events
Support Toys for Tots at the big holiday tree with Tropical Financial Credit Union and sign up for a $500 gift card giveaway
In addition, by popular demand, the trike races will return to the Stephen P. Clark Center event.
The race begins at 1 p.m. sharp at the walking track. The prize for the winner is a bike.
All participants earn 25 WellnessWorks points and bragging rights. Email
wellnessworks@miamidade.gov
to join the race and receive updates leading up to the competition.
Help us wrap up a great year of healthy living at the Winter Extravaganza and trike with the best or cheer them on.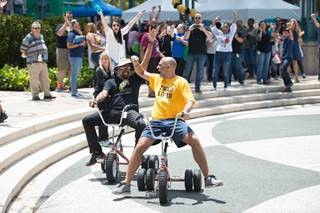 The Winter Extravaganza event is not advertised to the general public. For inquiries email discountninja@miamidade.gov or wellnessworks@miamidade.gov.
Biggest Winner
Congratulations to the Biggest Winner Winners on their accomplishments during the 12-week challenge in fat loss and muscle gain categories. Winners received a mega swag bag and $500.
Location, Department and Fat Loss Location Winner
OTV, FIN, Coryel Readon
SPCC, FIN, Peter Cam
Water and Sewer, WASD, Janet Kelly Marte
South Dade Government Center, MDPLS, Lianna Pupo-Cuartes
MLK, MDCR, Shawntia Kirkland
MDPD HQ, FIN, Samiris Feliz
Intracoastal, MDPLS, Dorian Postell
Aviation, MDPLS, Luz Rossy
MDFR, MDFR, Loudie Stfleur
Location, Muscle Gain Location Winner and Department
OTV, Yoel Delrosario, ISD
SPCC, Ashley Morris and Albert Golden, FIN/PA
SDGC, Karen Solms, MDPR
MLK, Tonja Evans, FIN
MDPD HQ, Gaston De Cardenas, MDPD
Aviation, Richard Garcia, Aviation
Fat Loss County Winner
Muscle Gain County Winner
Most Improved
Step Up and Thrive
Wellness Works is looking for 32 teams of 25 participants to join the ultimate department annual steps challenge showdown for 2023.
Get active and make your steps count towards a greater goal to improve your health and fitness. Department teams will take on other department teams to compete for the greatest endurance and stride efforts to determine the Step Up and Thrive Face Off 2023 challenge champions.
Registration period: Oct. 1 - Nov. 18, 2022
Challenge dates: Jan. 23 - Nov. 11, 2023
Tournament Rounds:
Round 1 (10 weeks): All teams compete
Round 2 (8 weeks): Top 50 percent of teams to win round 1 will advance, bottom 50 percent of teams will be eliminated
Round 3 (8 weeks): Top 50 percent of teams to win round 2 will advance, bottom 50 percent of teams will be eliminated
Round 4 (8 weeks): Top 50 percent of teams to win round 3 will advance, bottom 50 percent of teams will be eliminated
Final Round 5 (8 weeks): Final teams will compete head-to-head to become challenge champions.
Any participants eliminated from rounds 2 and 3 will be moved into an individual redemption tournament with the other participants eliminated in those rounds. This will continue until the start of round 4 of the challenge. So there will be redemption 2 and 3 individual champions and a team face-off champion.
Designated team captains will collect all participants' complete information on the registration form and submit the completed form to wellnessworks@miamidade.gov by Nov. 18. Each department may enroll up to two department teams to compete in the tournament.
Each department team must have a minimum of 18 participants, including a designated team captain. The team captain is responsible for the following:
Completing and submitting the Team Registration Form
Coordinating swag bag and incentive prize pick-ups for their team
Team members:
Must appear on the registration form submitted by team captain
Be registered on healthyroads.com
Have a device that is linked to their Healthy Roads account to track steps by Jan. 1
Must be benefits-eligible prior to Nov. 30
All participants earn:
Wellness Works shirt and other incentives
25 Wellness points each quarter towards the 75 points required for eligible entry to $250 quarterly raffles
Winning department team members earn:
Wellness Works MEGA Swag Bag
Bragging rights
Department receives Championship Wellness Works Belt and keeps it for one year until the next champion is selected
Please note, this is not a Quarterly Steps Challenge where employees register individually. A registration form is required for each team. Team members cannot be changed, added or replaced once set up. Any participant who displays significant anomalies in performance will automatically be disqualified from the competition. This may impact their team's performance and result in elimination from the challenge.
Biometric Screenings
A biometric screening is a great snapshot of your current health standpoint as it encompasses different measures from height and weight, waist circumference, blood pressure, and other health markers. By completing your biometric screening, you will receive 25 wellness points and $20 dollars 45 to 60 days after the quarter closes. If you receive 75 points in the quarter, you will be entered into a raffle to win $250. Get your biometric screening at any of the locations listed below and sign up.
WellnessWorks Incentive Winners
Congratulations to the annual winners of $500 for completing 75 points in all four quarters of 2021 and all fourth quarter winners of $250 for earning 75 points or more.

To enter for a chance at winning the quarterly or annual prize complete 75 points worth of WellnessWorks events or challenges each quarter (i.e. personal health assessment, biometric screenings, webinars, steps challenges, biggest winner challenge).
WellTalks
WellTalks are wellness talks provided by our EAP team. Find mental health tips, coping strategies, meditations and short videos dedicated to improving and maintaining your emotional wellness.


Wellness On Demand
WellnessWorks has created
Wellness on Demand
, a Microsoft Stream Channel for you to access wellness videos on exercise, stretching, meditation and wellness tips.
Self-Care Webinar Series
WellnessWorks is hosting a Self-Care Webinar Series during the week at noon. AvMed health coaches and special guests will be presenting a short 15-to-20 minute webinar at noon on self-care topics. You will even have a chance to ask questions during the Q&A.

Register for the webinars you are interested in and take care of yourself. After registering, you will receive a confirmation email with details on how to join the webinar.
To watch past videos of this series, visit
Wellness on Demand
.
Health Coaching
Let wellness come to you with
health coaching
. Health coaching is available by telephone or email.
Specialties include:
Stress management
Weight management
Nutrition education
Smoking cessation
Healthy lifestyle & behavior modification
Disease prevention/management
Heart disease, high blood pressure, diabetes, cholesterol
Meal planning
To make an appointment, call or email health coaches directly or email at
wwcoaching@avmed.org
.
Coaching sessions are private. Our coaches are HIPAA-Certified and ensure that all information remains completely confidential. No personal health information is shared with Miami-Dade County.
Health Coaches:
Jalessa McCathen, MPH, HSA, CHES
Monday-Friday, 8:30 a.m.-4:30 p.m.
305-671-7350
jalessa.mccathen@avmed.org


Danielle Portuondo RDN, LDN
WellnessWorks Registered Dietitian
Monday-Friday, 8:30 a.m.-4:30 p.m.
786-425-3414
danielle.portuondo@avmed.org


Deborah Fortino, MS, ACSM-CPT, ACE
Monday, Tuesday and Friday, 8:30 a.m.-4:30 p.m.
deborah.fortino@avmed.org
Healthy and delicious seasonal recipes
These recipes can improve your health and can give you the energy and nutrients to conquer your day. They're easy to make and perfect for busy work days.
Achieve your health and fitness goals
Improve your physical fitness by joining the
Active & Fit
program. This program is exclusive to AvMed members. To learn more visit
AvMed
website and select Health and Wellness.